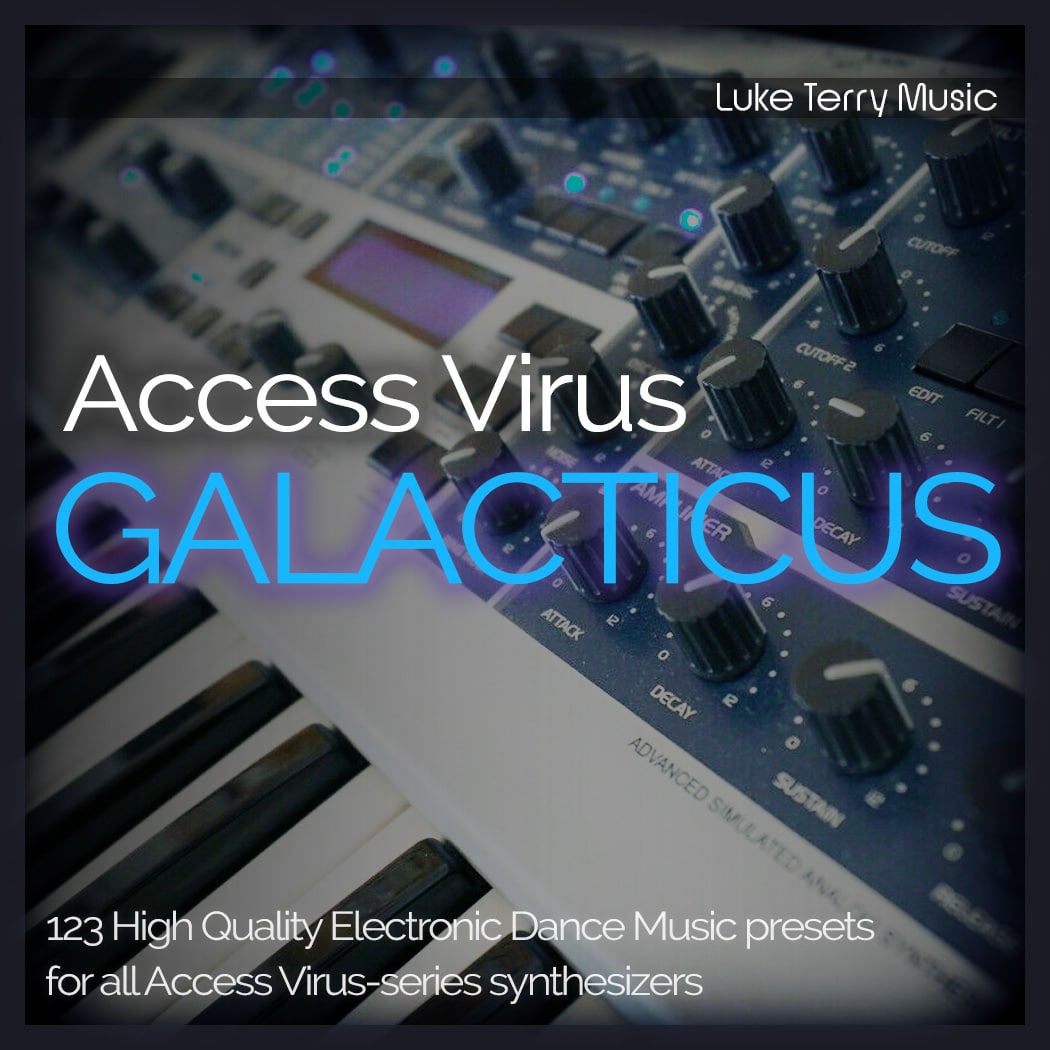 Access Virus Soundset "Galacticus"
Access Virus Soundset Galacticus features 5 core patch types; bass, pluck, lead, pad, and FX with 123 patches. There are a few sequence patches too in the bass section. Another quality package by Luke Terry.
All prices exclude VAT/Tax. Global customers are exempt.
For EU customers, VAT will be added at checkout or enter a valid VAT number if you have one.
Welcome to Galacticus for Access Virus! Thank you so much for purchasing Access Virus Soundset Galaticus. Your support not only helps keep my Luke Terry Music business alive, but also supports Jani Kervinen (aka Mystery Islands) to keep making great VST products to get the most out of some truly awesome synthesisers!
Earlier this year I released my 2nd artist album; Touch The Stars. I have put a link below if you would like to check it out and continue to support my work. All the synths in the tracks for that album have been made from scratch on hardware synthesisers; Access Virus, Roland JP-
8080, Yamaha An1x, Novation Supernova, Clavia Nord Lead 3, and the Roland JV-2080.
A large majority of the sounds are from the Access Virus, and I decided to start from scratch with a new bank when I knew that I was going to put together an album. Galacticus Soundset was born.
The soundset demo only features music released in the last couple of years. So, as you can hear, it can very much be used to make contemporary trance. Or, if you are like me, make something that sounds a bit more like trance from 20 years go. Check out the album to see what I mean! Am I plugging this album enough yet?
The soundset features 5 core patch types; bass, pluck, lead, pad, and FX. There are a few sequence patches, which are mainly in the bass section. These are designed to be played as a single octave arpeggios as there is not a step sequencer function on the Virus C.
As with all my banks, all the sounds are designed to be used in a track, they are not there to make up the numbers with a bit of fancy synth design. Play it, record it, mix it in!
I know I have said this before, but I love to hear the end results of people using my sounds in their productions so please let me know if you do so I can check out your music.
The soundbank has been designed on the Access Virus KC model and should import perfectly into any C / TI range. There may be some loss of function on the older A / B / Classic synths.
The soundbank has been brought to life on the AURA Plugins Access Virus Editor. Simply import the .mid or .syx into the VST after hooking it up to your synth and enjoy!
What our Customers think
Let us know what you think...
Only logged in customers who have purchased this product may leave a review. Log in now
Access Virus Soundset Galacticus Patchlist
Bass:
With Love
Subway
Street
Dangerpads
Staccato
Tight
Draftsign
Interplay
OneOneSix
Magik Seq
Tiesto Seq
HWM Seq
Nyana Seq
BT Seq
Flesh Seq
StraightUp
Aluminium
Bit Robot
Not2Fancy
Dirty
Acid Seq
Picker Seq
PiR-Square
Beams
ISOS Seq
Tyas Seq
FM Seq
ThisIs2000
Pik Sub
Dome
Rocker
Plucks:
DOS622
Revolution
Neptune
PvD
JMJ
10 Minutes
Skywalk
Bossi
Canyon
Twinkle
Insomniac
South Sale
Picotto
MODX7
Sierra
Squaresnap
Monoguitar
Signet
Origami
InTheThick
7th Filler
Tri Pick
Shadow <3s
Hi End Seq
Velo Wobb
Beat This
Bluestones
S&G
Afterglow
VdM
Harsh Sine
Leads:
Serano
Opus 20
Vimana
The Future
Lights
RK Silent
SynXpander
Glove
Five AM
Venus
Use Wisely
Space Time
Sunshine
PUNK
Hydra
Equinox
Helsinki
Eurydice
Lightshine
Ready
Exactly
Acidic
A breath
Transmit
Horus
GO
Squatar
Launcher
Smooth
Crimson
1st State
Pads:
Sunspots
From <3
TriNova
Spectral
De Chine
Mobius
Sentient
A Promise
Sodastream
PadOrLead
Breathy
Luminosity
Wizard
UFOs
Velo Pad
FX:
Disto Rise
Tonal Rise
Drop Noise
Screamer
4 Bar Lift
Take Off
Bassdrop
Squeaker
Key Rise
Acid Robot
Grunger
RevItUp
A&B Grit
Squareless
PitchyLFOs
Note!
Take the hassle out of your hardware memory management with AURA Plugins Access Virus Editor & Librarian.
Access Virus Editor can control your Virus directly from your DAW. All models supported.