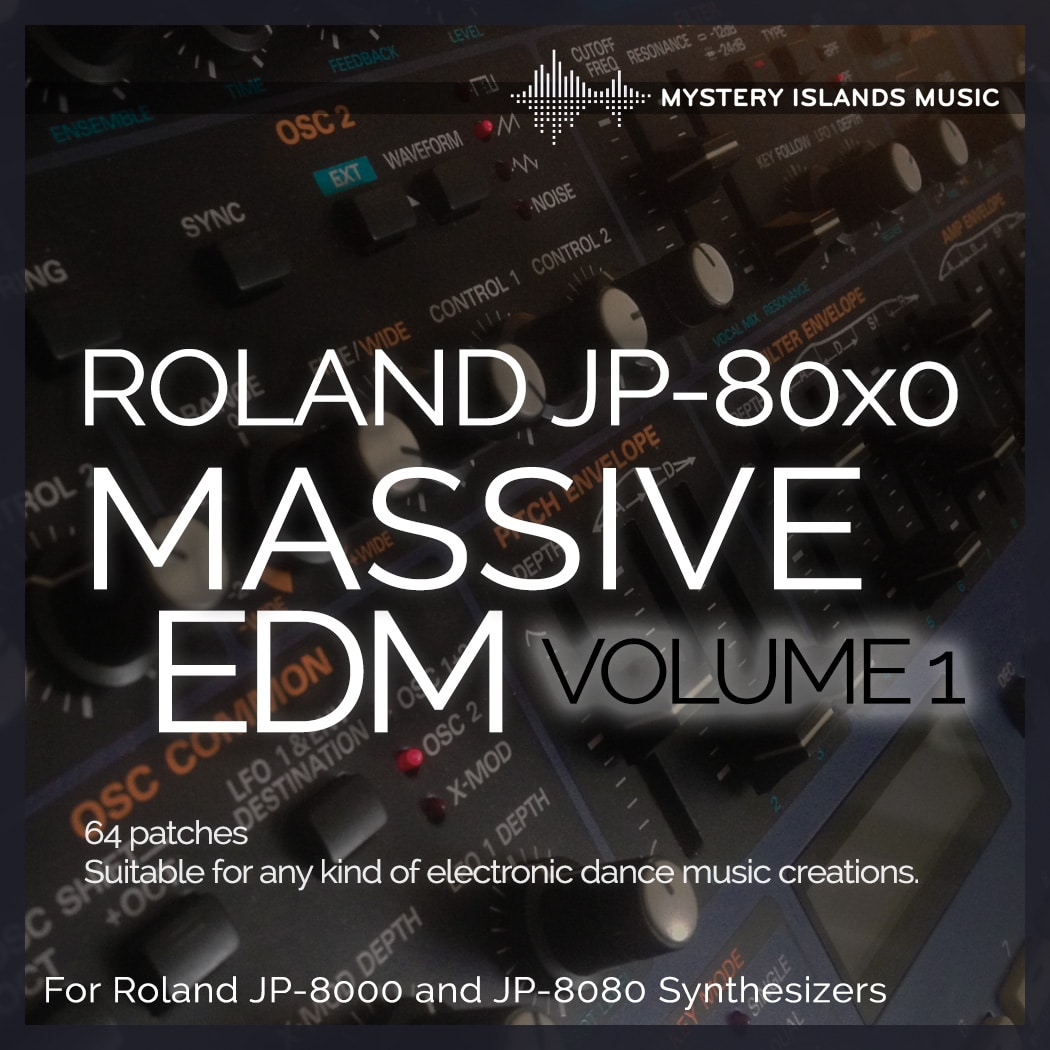 Roland JP-8000 Soundset "Massive EDM volume 1"
64 monstrous Roland JP-8000 sounds for all EDM genres. This really shows what your JP-8000 & JP-8080 is really made of and what it is capable of. Enjoy these fine sounds and blend them in to your productions.
This is the first package of 3 volumes we are preparing, so stay tuned for more!
Roland JP-8000 Soundset "Massive EDM volume 1" is built up from ground zero using Roland JP-80×0 Editor & Librarian. This first volume includes 64 new performances with modern EDM (Trance, Dubstep, Electro etc) Basses, Leads, Effects, Plucks and lush Pads! We also included normal MIDI file to make this package available for everyone.
These sounds are programmed in Performance mode, but we made it possible to squeeze every detail out from the JP-8000 & JP-8080 into one layer! This means:
– You can program your own sound on the second layer to maximize the usage of our JP.
Requirements:
Roland JP-8000 or Roland JP-8080
All synthesizer sounds are based on real JP-8000 and JP-8080 by Roland. Additional effects used:
TC Electronic VSS3 Stereo Source Reverb
https://soundcloud.com/mystery-islands/roland-jp-80x0-massive-edm
What our Customers think
Let us know what you think...
Only logged in customers who have purchased this product may leave a review. Log in now
Massive EDM Soundset Volume 1 Patchlist
BS Analog 1 JK
BS Hidden JK
BS More 1 JK
BS More 2 JK
BS X-ModBass1 JK
BS X-ModBass2 JK
BS Goa JK
BS TransLine1 JK
BS TransLine2 JK
BS TransLine3 JK
BS TransLine4 JK
BS Scooter JK
BS Moogish JK
BS Expander JK
BS GetOff JK
BS AddonDist1 JK
BS AddonDist2 JK
BS AddonDist3 JK
BS Pork JK
BS Looper JK
BS BadAss JK
BS Old Saw JK
BS Boomer JK
FX Cryogen JK
FX EDM FFM JK
FX warning JK
FX FallingStarJK
FX EDM FFM2 JK
LD Happo JK
LD Bodywork JK
LD Sunshine JK
LD Nature JK
LD Reality JK
LD ChorusStab JK
LD Morse MSG JK
LD Imperfect JK
LD Linked JK
LD TrancePwM JK
LD Dinosaur JK
LD Just Yell JK
LD Boxier JK
LD Old Times JK
LD Denied JK
LD Crazy2Mix JK
PD JustNumbersJK
PD AntherNmbr JK
PD Rich Air JK
PD From Above JK
PD IndianBeachJK
PD PureTerror JK
PD HiddenFear JK
PD Shallow JK
PD Red Carpet JK
PD Back Door JK
PD TheCalling JK
PD SuperShape JK
PLK Melonic JK
PLK Storming jK
PLK 3rd Part JK
PLK StereotypeJK
PLK Monotype JK
PLK wellKnown JK
PLK winterMistJK
PLK LastChanceJK
Note!
Take the hassle out of your hardware memory management with AURA Plugins Roland JP-80×0 Editor & Librarian.
Roland JP-80×0 Editor can control your JP-8000 / JP-8080 directly from your DAW.