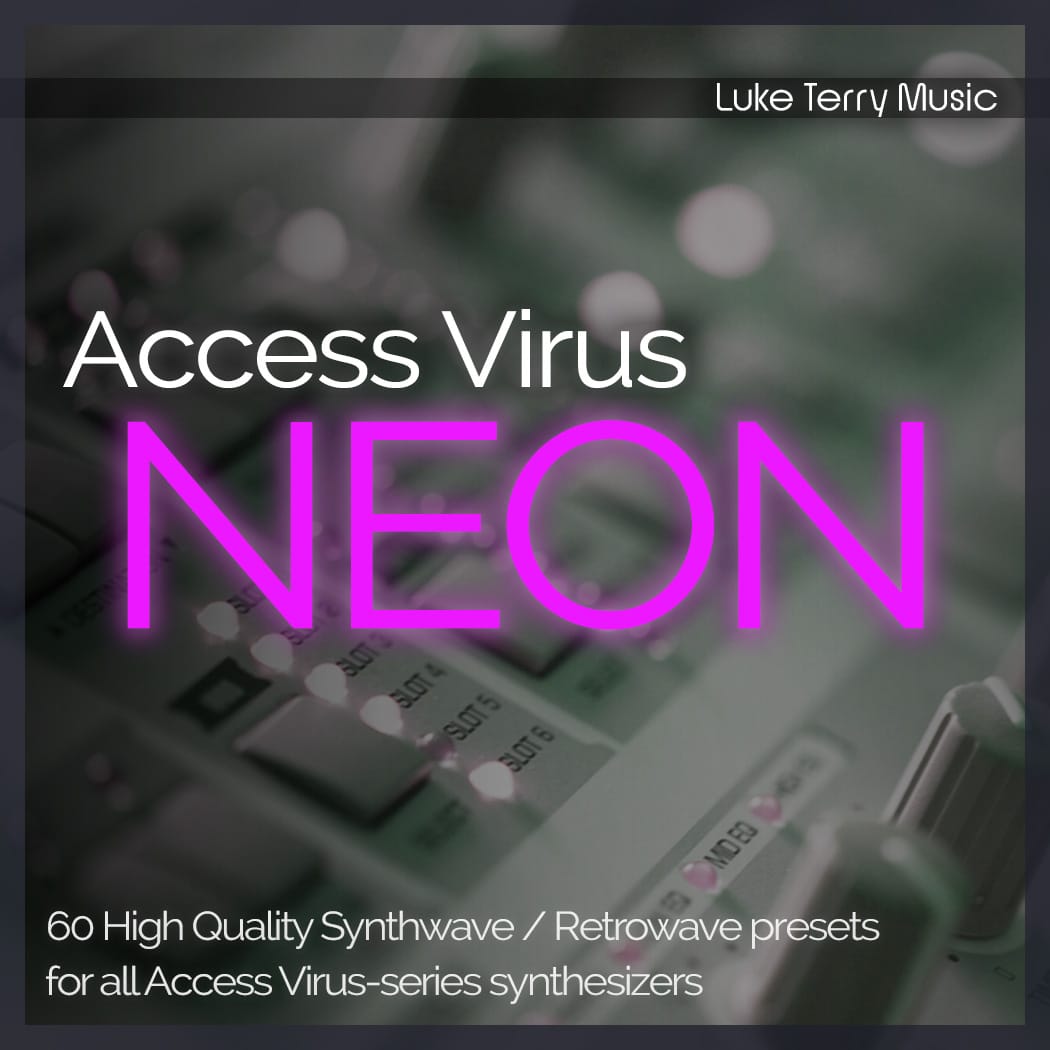 Access Virus Soundset "Neon"
Luke Terry Access Virus Soundset Neon for Access Virus synthesizers has arrived! Luke Terry shows us all, what those purple lights & smokey clubs we all about. Have a listen on the demos!
All prices exclude VAT/Tax. Global customers are exempt.
For EU customers, VAT will be added at checkout or enter a valid VAT number if you have one.
Luke Terry Access Virus Soundset Neon brings us back to the 80's. Check out what Luke has to say about the package and grab it today!
This bank is compatible with all Virus models from Virus Hardware to Virus PowerCore and Virus TI.
Hear the demo below, while you read what Luke says himself:
It is with great pleasure that I can share with you a third soundset for the Acess Virus synthesiser series! Going a bit left-field from the Hyperboreal and Auroron soundsets that have worked their way out of my studio, Neon is aimed squarely at the synthwave / retrowave sound.
Neon is all about the purple big neon city, sunset strip, top down pseudo-80s synthesiser goodness. It's no secret that I am a massive 80s fan, mainly because I was born right in the middle of the decade. To be honest I wish I had found the new age synthwave genre a lot earlier than I did!
The bank has everything to get you going; basses, leads, pads and plucky keys. They are quite wide ranging in their style and will pop into your track with minimal processing. Equally, a lot of the sounds will go beyond the genre and would sit lovely in a house, dance or trance track.
The Virus was born for this genre! It makes such lush sounds and fills the space like no other synth with its characteristic warmth and buzziness. As always, the soundbank has been designed on the Access Virus KC model and should import perfectly into any C / TI range.
There may be some loss of function on the older A / B / Classic synths.
Requirements (one of the following models):
 Access Virus B, KB, Rack, Indigo
Access Virus C, KC, Rack XL, Indigo2
Access Virus TI Desktop, Keyboard and Polar (series 1 & 2)
TC Electronic Virus Powercore
The soundbank has been brought to life on the AURA Plugins Access Editor. Simply import the .syx into the VST after hooking it up to your synth and enjoy!
What our Customers think
Let us know what you think...
Only logged in customers who have purchased this product may leave a review. Log in now
Access Virus Soundset Neon Patchlist
Bass:
Outrun!
Rise Up
Springyard
Beverley
Bizness
Spyder
8bit Dream
OB-XYZ
Transforma
Pogo
Sparks
Poly Bass
Dual
Almost 90s
Squared
Lead:
Afterburn
Gunstar
Absolute
Floppydisk
Cosbell
Optimus
Korg Brass
Infrared
Ibiza
Ecco
Moonwalk
Chase
Snaps
Chaos
Midnight
Pad:
Glo Worms
Arcade
Afterglow
Dot Matrix
Rocky
Balimos
Poly
Softy
SilentRage
Delerium
Illusion
Big Pad
Ooze
Alien
Clouds
Keys:
Emerald
Caffinated
Rush
Marathon
Rhode
Fone Home
Peace Arp
Diablo
Reflex
Sonical
Moods
Back2Front
Jamaica
Spacehead
Silk
Note!
Take the hassle out of your hardware memory management with AURA Plugins Access Virus Editor & Librarian.
Access Virus Editor can control your Virus directly from your DAW. All models supported.