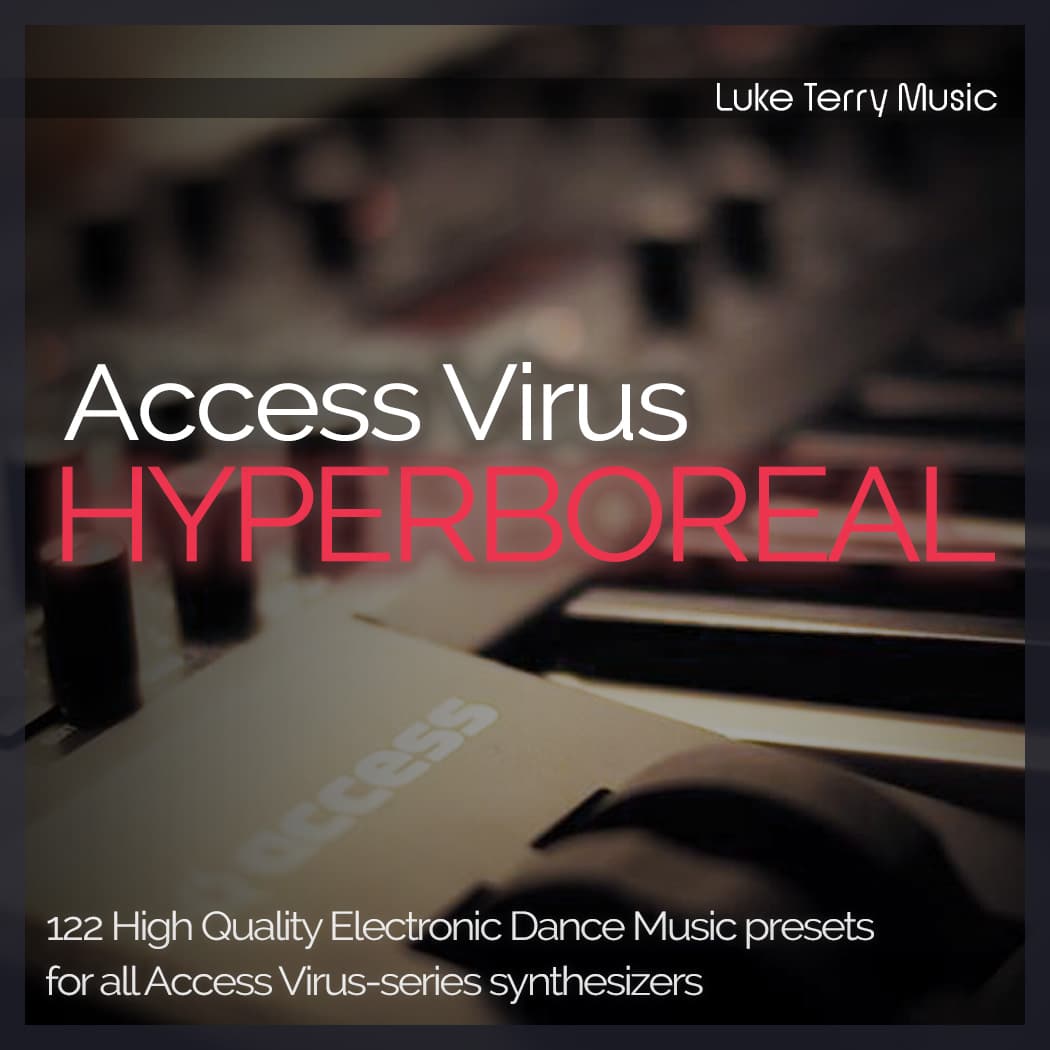 Access Virus Soundset "Hyperboreal"
Luke Terry's Virus Soundset Hyperboreal for Access Virus synthesizers makes a touchdown! His iconic and new inspiring sounds will set a completely new standard to your productions and will boost it up instantly from patch 1!
All prices exclude VAT/Tax. Global customers are exempt.
For EU customers, VAT will be added at checkout or enter a valid VAT number if you have one.
Access Virus Hyperboreal Soundset is your official number #1 soundset in the studio when we are using Virus in our productions. Luke Terry Hyperboreal contains 122 pristine presets, which sound just amazing! There are no fuzzing around patches, they all have a slot in your track if you want.
This bank is compatible with all Virus models from Virus Hardware to Virus PowerCore and Virus TI.
Hear the demo below, while you read what Luke says himself:
Firstly, let me please thank you for purchasing this soundset. This soundset comprises over 120 sounds from my own personal collection of sounds which I have made and used in my productions over the last 15 years or so.
The sounds are specifically geared towards trance music. I have personally used these sounds in my own tracks. There isn't many tracks I make without using the Access Virus for something. It is one of the most versatile synths going, which I'm sure you will already know!
The sounds are designed to be used in tracks. They are not there to fill spaces in a half finished bank. They are plug and play and you could quite easily make a whole array of tracks with the sounds within this bank.
The soundbank has been designed on the Access Virus KC model and should import perfectly into any C / TI range. There may be some loss of function on the older A / B / Classic synths.
Requirements (one of the following models):
Access Virus B, KB, Rack, Indigo
Access Virus C, KC, Rack XL, Indigo2
Access Virus TI Desktop, Keyboard and Polar (series 1 & 2)
TC Electronic Virus Powercore
The soundbank has been brought to life on the AURA Plugins Access Virus Editor. Simply import the .mid or .syx into the VST after hooking it up to your synth and enjoy!
What our Customers think
Let us know what you think...
Only logged in customers who have purchased this product may leave a review. Log in now
Access Virus Soundset Hyperboreal Patchlist
LT => Bass
A&B '99
Revelation
Big Bass Saw
Chugger
Puncher
Low Mid Beef
Psyche
Rez 8bit
Armin Bass
Anjuna Saw
MIKE 99
Offbeater
Purple Bass
SHOKK
Guitar (MW)
Bouncer
Gouryella
Clean Sub
Caffiene
Flue Beer
Noise Punch
Audien
Aria
LT => FM
PvD Acid
Simple 303
FMMMMrog
Tenshiacid
Angry Waves
Aliens
Can I Scream (Hold)
Hard 303
Cubic Acid
Vandit
Sniper (Hold)
Sorrow Acid (Hold)
Virus FM
GODD
LT => Lead
Hyperborea
Anahera
Aika
Back 2 Cali
Velvet
Card White
Dreamin' of U
Radio Crash
Symbols
Moogwaii
Cloudwalk
Icarus
Another Way
Anjuna Lead
Seekthrill
Old Armin
Spikey
Lonely Gal
Tsunami
Kansai
An Angel
Bellish
Blue Moon
Solarcoast
Shogun
Lolo
Dark Moon
For All I Dream Of
2004 Saw
LT => Pluck
Halcyon
Fly Blue
In 2 The Nite
Sky
Monkey Wood
Janeiro
Supernova
Solid Globe
Obsession
Sinepluck
Sahara
Cosmic
Chicane
AA
Cygnus
Nord Pluck
Aalto
Tekara
Kygo
LT => Pad
Kathy's Pad
Wide Pad
Aloa Pad
Muted Pad
Fire Pad
Solar Pad
Capture Pad
Chorus Pad
Jupiter Pad
Armin Pad
Tyas Pad
Meta Pad
Oldskool
4 Ever W8ing
Tracid Pad
Kevin & Perry
Tactics
Sea Pad
Wave Vox
Transa Pad
Super8 Pad
Lunar Pad
Analogue
Ashna Pad
Spiralis
LA X
Miracle
Kingpin
Amber
LT => FX / Seq
Noise Down
FX Down
Chorus Down
FX Kick
Pistolwhip
New Time New Place
99 or Tribal (MW)
Randomiser
Note!
Take the hassle out of your hardware memory management with AURA Plugins Access Virus Editor & Librarian.
Access Virus Editor can control your Virus directly from your DAW. All models supported.