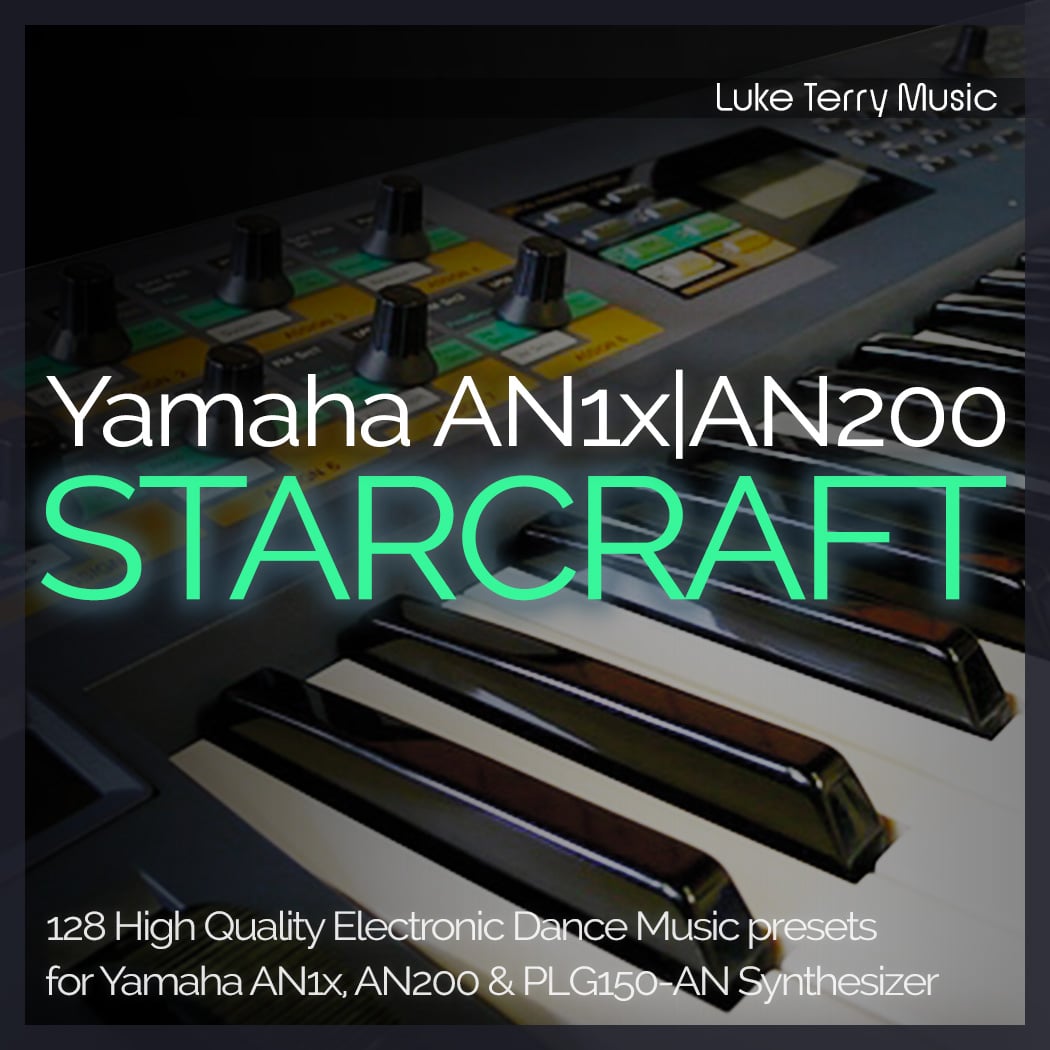 Yamaha AN1x Soundset "Starcraft"
This Yamaha AN1x Soundset is a bit of a hybrid of all things trance. 128 patches that have been made to span the genre over the last 25 years since AN1x was released
All prices exclude VAT/Tax. Global customers are exempt.
For EU customers, VAT will be added at checkout or enter a valid VAT number if you have one.
Yamaha AN1x Soundset Starcraft is here! When I completed my first soundset Hyperboreal for the Access Virus 4 years ago, I could never have imagined that I would have completed another 10 since then! So, a massive thank you for all your support and for purchasing this one for your Yamaha AN1x.
The AN1x was a relatively late addition to my studio a few years ago. To be honest, it was one of those synths I stayed away from as it had a notorious reputation for being exceptionally difficult to navigate and program. That's certainly true, and this was pretty much entirely made on the 1997 editor, which isn't much better than the actual interface on the synth. (Hint to Jani there...)
Anyway, if you have an AN1x you probably know it's incredibly powerful, and is a massively underrated piece of kit. In my opinion it's an incredibly versatile piece of kit, and reminds me a lot of the JP-8000/8080 with a lot more bells and whistles under the hood, but without the supersaw.
So, this bank is a bit of a hybrid of all things trance. It's a biggie with 128 patches that have been made to span the genre over the last 25 years since the synth was released. Basses, plucks, leads, pads, acids, effects, all ready to drop straight into your next production.
A small word of warning... all the sounds are MIDI clocked to 132 BPM as the AN1x doesn't lock to the host MIDI clock (it is 25 years old). So if you are producing at a different BPM, make sure to edit the MIDI on the synth otherwise the onboard delay will be out of sync. Or knock the delay off and use your own.
The demo track is entirely AN1x with the exception of the drums. I have used some EQ in the DAW to mix it down nicely, and a limiter on the master to finish it off. However, everything else is straight out of the AN1x as it comes.
What our Customers think
Let us know what you think...
Only logged in customers who have purchased this product may leave a review. Log in now
Yamaha AN1x Soundset Starcraft Patchlist
Bass Chunk
System FC
A&N
Boutique
MidLine
DotLine
Sounds FM
Heartz
2080 16th
Use HP
Charged
Captiv8r
AFS
AN1Sub1
AN1Sub2
AN1Sub3
Hydra
TriSquare
DeePhase
ILW
BonusBass
Lately
GeeTeeArr
Fazed
Far East
Lunacoast
Butterfly
Angelic
Raindrop
WYM
Crush Plk
A Ghost
GO Pluck
97 Pluck
Chinaner
Ocean
B3nno
Frenchie
Evolve
Brava
DX Drops
So Wet
Arpora
Alive
Wonderful
Superhero
Gaia
Casta
Styx
Charon
Cali
Waves
A Monster
Plastic
eXactly
Brace
Fortify
Cosmo
SuEcide
YelloBlak
Elevate
En Motion
Phase Mix
Sundawner
Airscaper
Warped
Tyas
Delinquen
Kansai
Volume 1
B3lieve
Raver Arp
UOZ
N/S Pole
VAZ
Psychofuk
Express
Megaborea
Fuscia
Alfazone
2nd Lead
Composure
Tsunami
Icarus
D2D
80X0
Big Poly
ThisIsIt
1980
Timespace
Cygnus X
Gravity
Spirits
Heaven
BellLayer
Glassy
Ligaya
Dark Orch
Fatquare
JP <3
Flanging
Lover
Sub Pad
Phantazma
SuperSaw
99Yeah?!
Acidic
Squacid
Van Dook
Whiteline
Outback
Mid Drive
Scream
Juna Wrah
Staccato
Mad Pulse
Midway
FC Drive
Noisehunt
303
UFO
LFO Noise
Haunted
Danger
Flip Me
Wide Rise
Up White
Down White