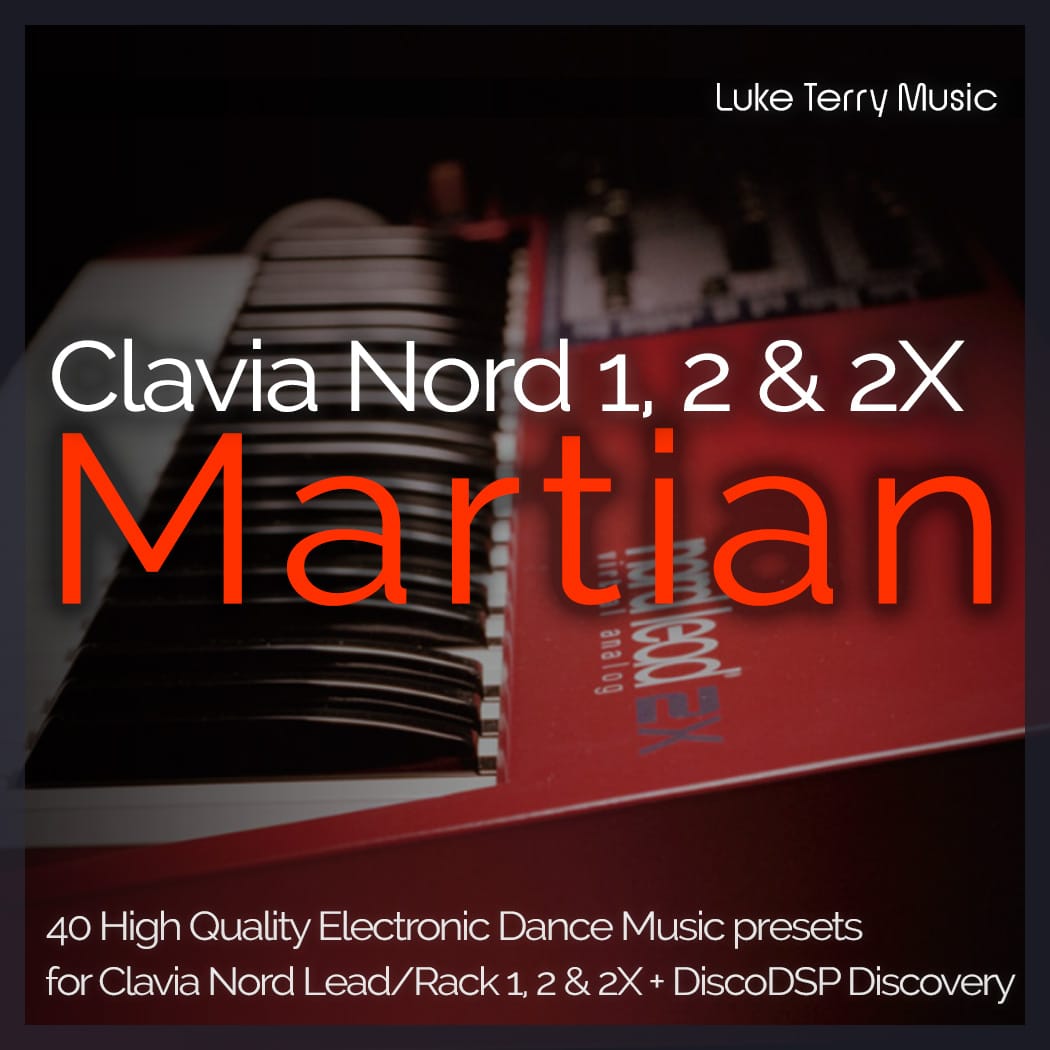 Clavia Nord 2 Soundset "Martian"
Luke Terry – Clavia Nord 2 Soundset Martian for Nord Lead & Nord Rack 1, 2 & 2X. 40 new presets to breath new life to your Nord. This bank is also compatible with DiscoDSP Discovery plug-in! Have a listen on the demo.
Clavia Nord 2 Soundset Martian has a long story. 2020 has been a bit of a strange year so far for all of us. Being in worldwide lock down, however does have its upsides of being able to justify spending more time in the studio! I had finished this small bank quite a few months ago, but wasn't able to put the demo together to showcase it off. Being told to stay indoors gave me the chance to bring these patches to life.
Anybody who is a bit of a synth geek knows a Nord when they see one, you can't miss the red to be fair. And they make some pretty impressive and amazing sounds. I have been led to believe that the lead from Solar Stone's 7 Cities was made on a Nord, as was the big swirling hook from Sublime, by Ferry Corsten & The Thrillseekers. Steve Helstrip still uses his NL2, so you can't get much more of an endorsement than that.
The bank is made up of 40 patches. There are a good spread of chunky basses (I still pretty much use this synth exclusively for sub basses), smooth and delicate pads, crisp leads, and the dreamy plucks that this synth does best.
The soundset was designed on the 2X and there may be some function loss when importing to the 2 or 1. The demo track is all 2X sounds from this bank with a touch of external reverb and delay as the synth has no onboard effects, otherwise everything is directly is out of the synth.
The soundbank has been brought to life on the AURA Plugins Clavia Nord 2 Editor. Simply import the .mid into the VST after hooking it up to your synth and enjoy!
Please do drop us feedback and if you use any of the sounds in your track I'd be delighted to hear it!
What our Customers think
Let us know what you think...
Only logged in customers who have purchased this product may leave a review. Log in now
Clavia Nord 2 Soundset Martian Patchlist
Psycodelic
Classic Bass
FM Cats
Clutch
Soul
Troposphere
Super Sync
Eclipse
Grumpy Square
Subtastic
Arpeggiate
Elektra
Trinity
Fluro
Islands
Warm Harbour
Heavenly
Mono Structure
Thirty 7
Plucklet
Gaia Lead
Anjunalead
Freefalling
Surga
Vagabonds
Adaio
Experience
Summer
Frosty
Journey
Amazonia
Neba
Pulsed
Alpe du Nord
Blueprint
Captured Moon
Cushy
Square 5th
Coffee
Big Pad
Note!
Take the hassle out of your hardware memory management with AURA Plugins Clavia Nord 2 Editor & Librarian.
Clavia Nord 2 Editor can control your Nord 1, 2 and 2X directly from your DAW.