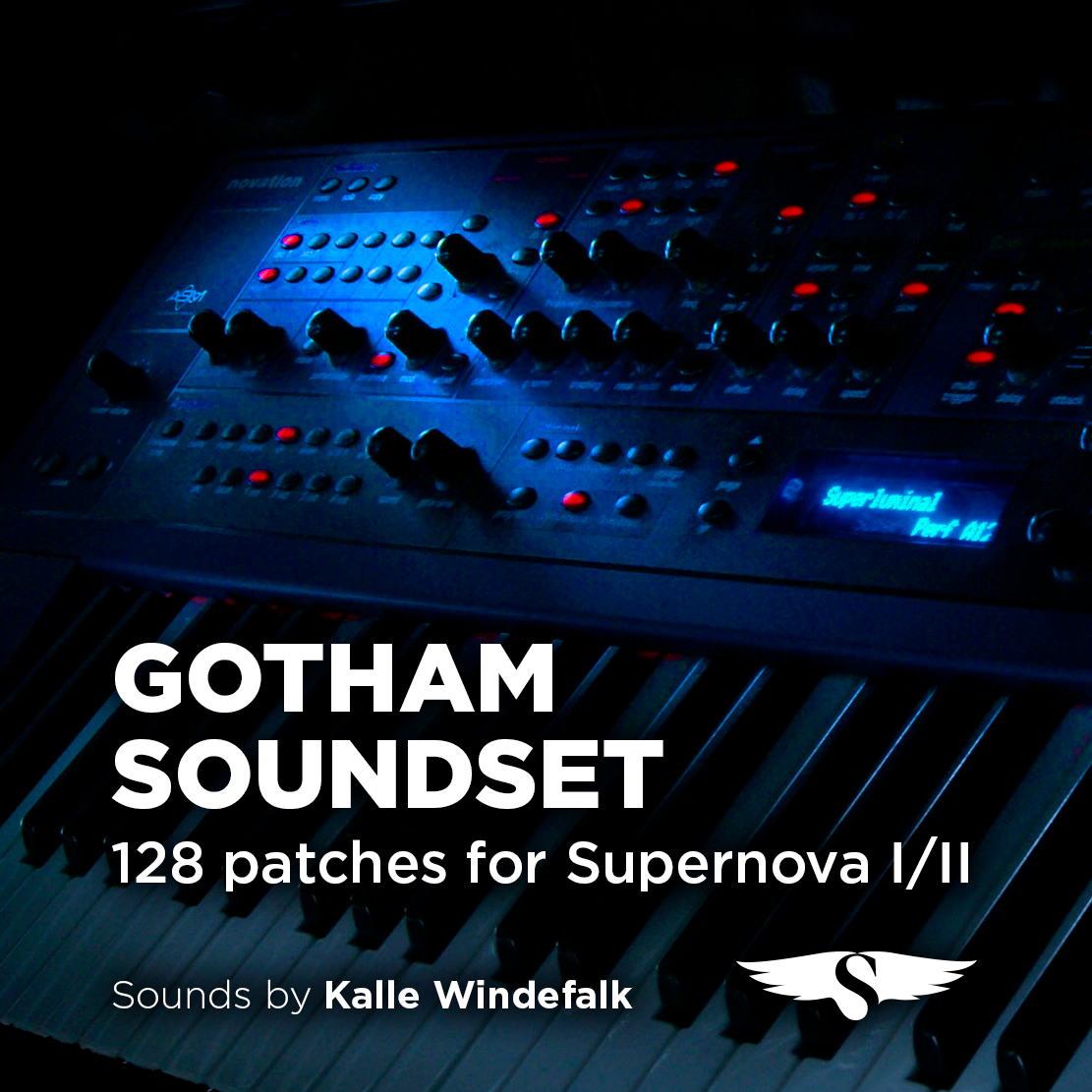 Novation Supernova Soundset "Gotham"
Novation Supernova Soundset "Gotham" contains 128 patches for the legendary Novation Supernova / Supernova II synthesizers by Seraphic Music.
All prices exclude VAT/Tax. Global customers are exempt.
For EU customers, VAT will be added at checkout or enter a valid VAT number if you have one.
Novation Supernova Soundset "Gotham" is a bank of 128 patches for the legendary Nova / Nova II / Supernova / Supernova II synthesizers.
Carefully crafted sounds ranging from cloned vintage sounds, beautiful pads, thick basses, piercing leads, dreamy keys and FM sounds to name a few.
Created in OS 2.0 with 24 voices
What our Customers think
Let us know what you think...
Only logged in customers who have purchased this product may leave a review. Log in now
Gotham Soundset Patchlist
Phat Saws KW
StickyArp KW
SwellingOrgan KW
Wetex Bass KW
Caveman KW
PluckedGuitar KW
Saw Pluck KW
Dance Lead KW
J.ED Hoover KW
StarDust KW
Round `n Fat KW
Another One KW
Space Bug KW
Square Garden KW
Sad Lead KW
The Saw KW
Cold KW
Chain Saw KW
Angles KW
AmigaPad KW
Dust Saw KW
Fall From… KW
Comundoor KW
RetroComp Ld KW
Lo-Fi Saws KW
Puls KW
Space Sprits KW
TempelOfLove KW
PortaChord KW
Noisefloor KW
OSCtop Bass KW
Pluck You!!! KW
ComplextroBs1 KW
Drill KW
Hammer On KW
Tjonk KW
AmbientBuild KW
ResoMotion KW
SortOfFMbass KW
New Moon KW
AgressiveBass KW
Chill Pad KW
MoogishBass KW
MoogishLead KW
GameFX KW
Waves KW
In your phase KW
Ordinary Saw KW
Gritty Lead KW
Click Bass KW
River Styx KW
StellarFluite KW
Sequencer KW
Galactica KW
Dreamer KW
Femme KW
Space Sitar KW
Viggen KW
Fingerbang KW
PaperCut KW
AvantGarde303 KW
NoiseBsSeq KW
PortAttackLeadKW
Quasimodo KW
NoiseUplifter KW
NoiseFall…. KW
UnisonSawPad KW
PollyKeys KW
Modern Pad KW
VintageLead KW
SweeperCreeperKW
Broken Square KW
Mermaidophone KW
STHLM KW
Massive KW
ChorusStack KW
S&H Bass KW
AccelerateVib KW
Lejser KW
F:ed up Gong KW
Out Of Tuna KW
RingMyNeck KW
Ypsilon 5 KW
The Beast KW
ResoSquare KW
Trancer KW
Cute KW
Sulfate KW
PulseDrivEQ KW
PulseDrive KW
PulseDiverPad KW
ClassicSeqBassKW
D-Tuned Saw KW
NeoRomance KW
Morning Pad KW
At dawn Pad KW
UN-Stable KW
ElecFretless KW
IcicleRain KW
Tiny Keys KW
Rivendell KW
GtrFeedback KW
Terra Nova KW
Ef-Em Bass KW
ProTracker II KW
Tin Cans KW
Wanderer KW
Sort of whale KW
FM SawARPno KW
SNII vs DX KW
FM SawPiano KW
FM Pad1 KW
FM Pad2 KW
FM Space Arp KW
FM PeterPan KW
Morphine KW
ElectroOrgan KW
UniTranceKey KW
UniTrancePad KW
UniColdTrance KW
Cold Trance KW
Syncronize KW
Trance FM KW
PassaPlucken KW
Trance FM2 KW
LeadrOfThePac KW
ComplextroBs2 KW
End Titles KW
Attention!
This soundset is compatible with Nova, Supernova and Nova II models when using with AURA Plugins Novation SN / SN II Editor & Librarians.
Novation SN Editors can control your Novation synth directly from your DAW.