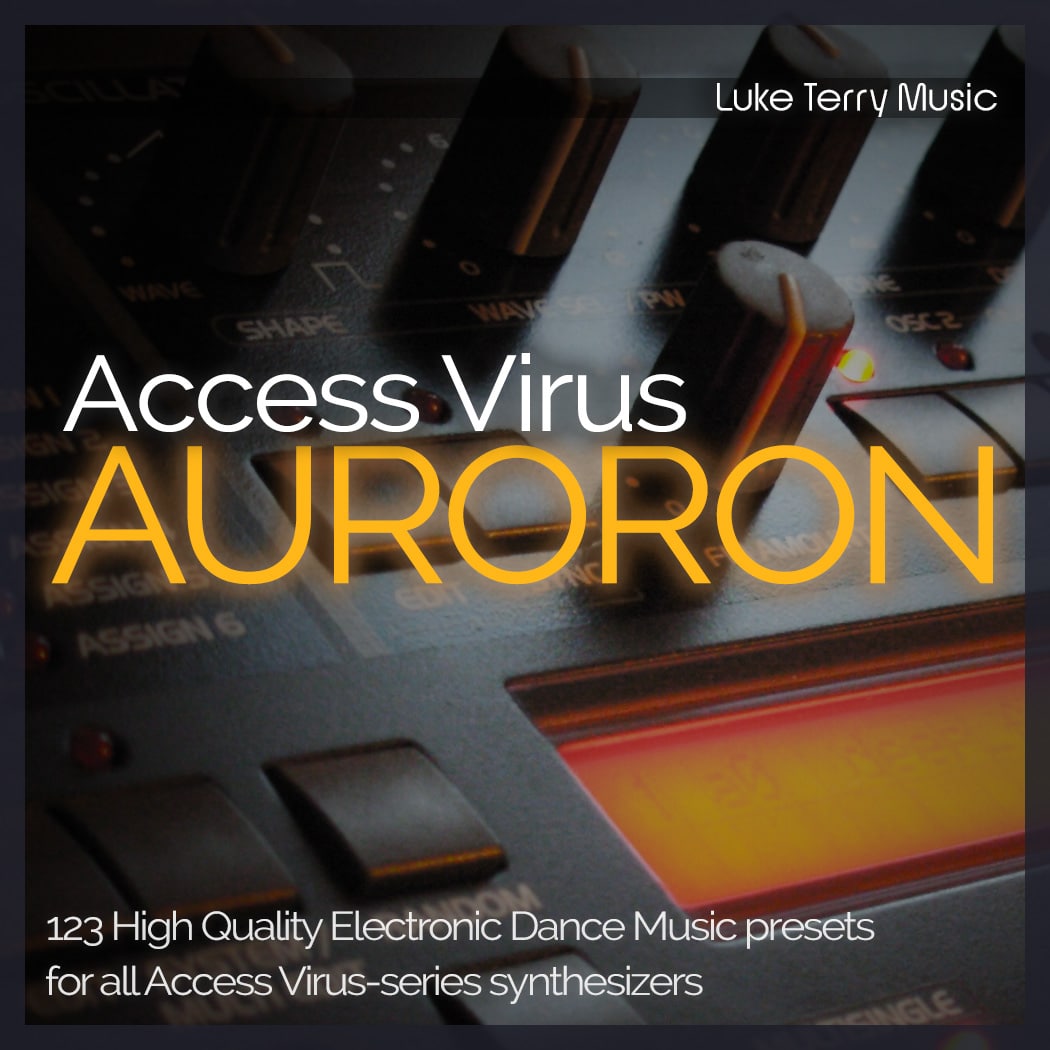 Access Virus Soundset "Auroron"
Luke Terry has created new Virus Soundset Auroron for Access Virus synthesizers after the successful "Hyperboreal" soundset! These presets are covering all of the dance music genres with classic to new sounds.
All prices exclude VAT/Tax. Global customers are exempt.
For EU customers, VAT will be added at checkout or enter a valid VAT number if you have one.
Access Virus Soundset Auroron is the return of Luke Terry with new Virus soundset after the successful Hyperboreal bank. This bank contains 123 pristine presets, which continue where the previous bank were left off!
This bank is compatible with all Virus models from Virus Hardware to Virus PowerCore and Virus TI.
Hear the demo below, while you read what Luke says himself:
I never imagined that when I first released the Hyperboreal soundset that it would be nearly as popular as it has been. So, without further ado, here is Auroron, the second soundset for your Access Virus synthesisers.
Again, with this soundset, it is primarily focussed on trance music and a lot of the sounds are lifted straight from my upcoming album. You really can't go wrong with an Access Virus, I probably use mine now more than ever!
As always, the soundset is all killer, no filler. Is is very much a pure soundset designed to help you making music,, There are quite a few more sounds in this set that have the velocity linked to the filter to help give the human touch for live playing.
The sounds are pretty much all ready to be dropped in to your track with minimal fiddling. I could have made the demo reel an hour long without too much fuss, but hopefully the short clip should give you plenty inspiration on what to do with the sounds in the bank.
The soundbank has been designed on the Access Virus KC model and should import perfectly into any C / TI range. There may be some loss of function on the older A / B / Classic synths.
The soundbank has been brought to life on the AURA Plugins Access Virus Editor. Simply import the .mid or .syx into the VST after hooking it up to your synth and enjoy!
Requirements (one of the following models):
Access Virus B, KB, Rack, Indigo
Access Virus C, KC, Rack XL, Indigo2
Access Virus TI Desktop, Keyboard and Polar (series 1 & 2)
TC Electronic Virus Powercore
Please do drop us feedback and if you use any of the sounds in your track I'd be delighted to hear it!
What our Customers think
Let us know what you think...
Only logged in customers who have purchased this product may leave a review. Log in now
Access Virus Soundset Auroron Patchlist
LT: Bass
See Saw
Crusher
Ballerina
Dallas
Solstice
Air 4 Life
Needlejoos
Holdin On
Sub Punch
Bayer
Gaia
An1x
Bad Ass
Out There
NYC
Mindcircus
Mooog
Behave
Stormy
Raw Saw
Unphase Me
Squarus
Squeeze
Simples
Rectangarp
Nord Bass
PUSH (MW)
Aira
FM Saw
Paris
Summer
LT: Acids
Degenerate
Transistor
Robo (MW)
YanadaAcid
303 LFO
Tigers
Tytanis
Metal Me
Nova
Old Midway
F-Marp-O
Fire Start
Korus
Namistai
Clean Line
LT: Pads
Re-Form
Anjuna 17
Radiance
Control
For a Girl
JV Pad
CapturedSaw
Contact
Lotus
Cassini
Angels
Tear Drops
Yoji
With Love
On The Run
LT: Leads
Devoted
Magenta
Sun & Moon
Exhale
Rain Stars
Expander
Typhoon
Apollonia
LastResort
Accadia
ActivSight
Butterfly
Follow U
Soul
Ocean Labs
RisingStar
Starfire
O.O.T.B
Old Tiesto
Kitikonti
Ralphie
Cosmonoto
Sun Decade
Sirocco
1997
Mexico
Push On
Jamsterdam
Garude
Classic
Ozcano
LT: Plucks
Halloween
Vandit 99
Afterburn
Data
Blizzards
Til Monday
Eugina
San Fran
Rapid Eye
Twinkler
Skies (MW)
NL2X(MW)
Waterbaby
Eternity
Flashback
Insigma
Waves
Glock
Sandstone
My Arps
Rain Drops
Eric P
Autumnal
Rostock
Essence
Airscape99
Shaper
Clouds
Outback
Orinoko
Space Bell
Note!
Take the hassle out of your hardware memory management with AURA Plugins Access Virus Editor & Librarian.
Access Virus Editor can control your Virus directly from your DAW. All models supported.