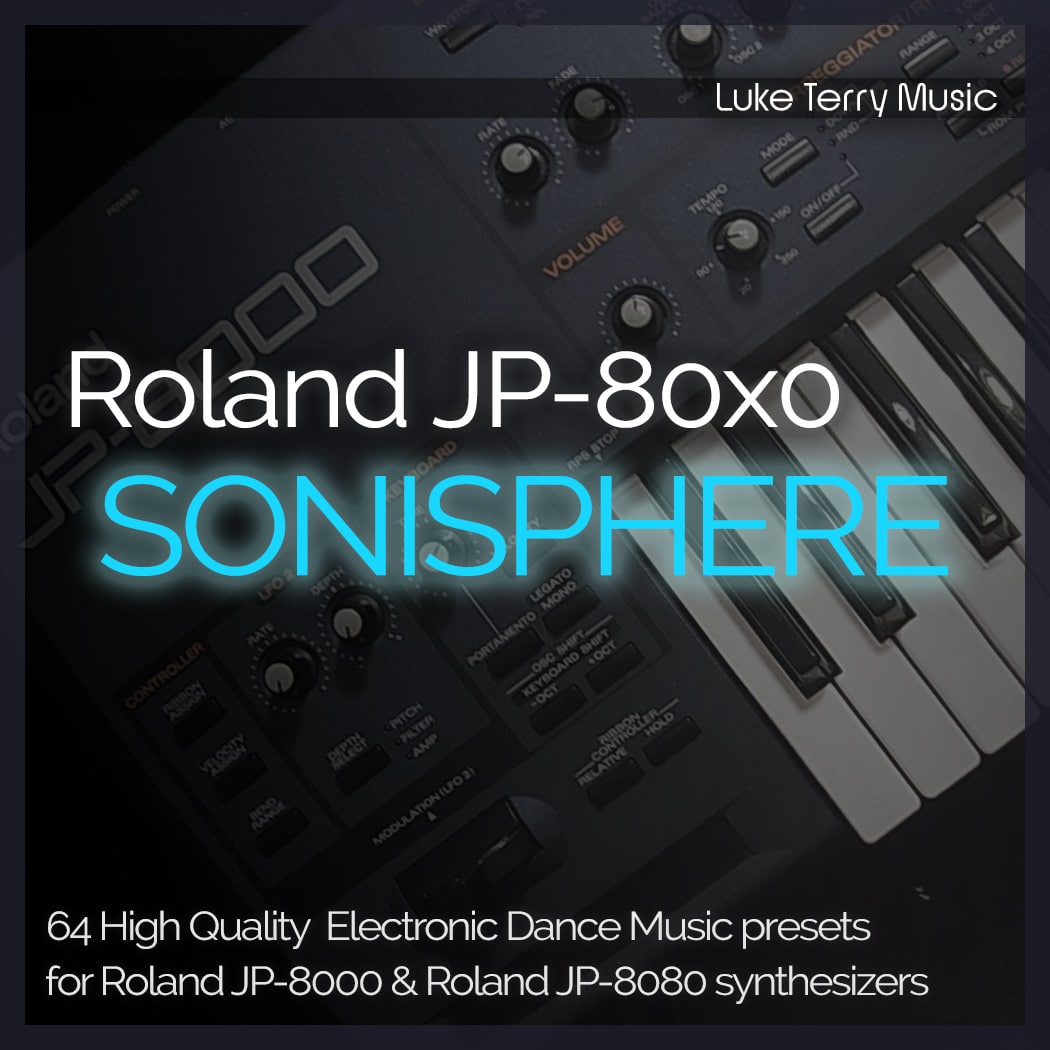 Roland JP-8000 Soundset "Sonisphere"
Luke Terry is making a landmark with his Roland JP-8000 Soundset Sonisphere. Inspiring presets with easy edits to get your projects proceed with ease. Check out the demo!
All prices exclude VAT/Tax. Global customers are exempt.
For EU customers, VAT will be added at checkout or enter a valid VAT number if you have one.
Roland JP-8000 Soundset Sonisphere - Once again I am delighted to be able to share another soundset, this one for one of Roland's most famous synthesiser groups, the JP-8000/8080. Having sold my JP-8000 a few years ago to save room and make way for a JP-8080, the small window of time not having the synth at my disposal felt like an eternity. Luckily I had most of my patches saved on the old WinJPLib software so I could pick up where I left off.
The JP really needs no introduction, the sound is absolutely iconic. Renowned for its massive Supersaw oscillator the other capabilities of the synthesiser can sometimes be forgotten about. Sonisphere delivers the very best of the sounds that made it famous in the late 1990s, and a whole heap of sounds that are more than fit to be used today in 2018, with and without the Supersaw.
The bank is made up of 88 sounds in performance mode. There are a wide spectrum of basses, gritty acid and FM type sounds, gooey and lush pads, big leads, beautiful plucks and a few FX thrown in for good measure.
The soundset was designed on the JP-8080 and there may be some function loss when importing to the JP-8000, for example on sounds which use the 2nd noise oscillator and the distortion FX module. The demo track is all JP-8080 sounds from this bank with a touch of external reverb, otherwise everything is directly is out of the synth.
The soundbank has been brought to life on the AURA Plugins Roland JP-80x0 Editor. Simply import the .mid into the VST after hooking it up to your synth and enjoy!
What our Customers think
Let us know what you think...
Only logged in customers who have purchased this product may leave a review. Log in now
Roland JP-8000 Soundset Sonisphere Patchlist
Naked Angels
Solid Glove
Nothing But U
Push Love
Square Route
Tuke Lerry
Fizzer
Subsaw
Eon
Another
Bass 4 Life
Aluna
Shakedown
Twisted
London
Finland
Howsya Evenin
80303
See 3 Pee Oh
Heavy Metal
Hooligan!
JP Does This!
Deadgerbil
Pitchin
Ultres
Ambrosia
Sadness
Our Destiny
Captured Sun
Monday
Starman
R@nk 1
Sublimer
Wide Supersaw
8080 Disto Square
Flutlicht
Et Viola
Oscar
Do U Believe
Earthquake
Communication
Carlos
Simulated
Synaesthesia
Rising Stars
Solar Guitar
Unisquare
More & More
Enchanted
Square Love
8080 Kyoto
Alba
Hail Bopper
Keep Me 4 5th
Low Sun
Goodbye
Unknowing
Red Rox
Indigo Sunset
Schmutz
Broken Bends
Horizon Pips
Saw Pitch LFO
4 Bar White
Note!
Take the hassle out of your hardware memory management with AURA Plugins Roland JP-80×0 Editor & Librarian.
Roland JP-80×0 Editor can control your JP-8000 / JP-8080 directly from your DAW.