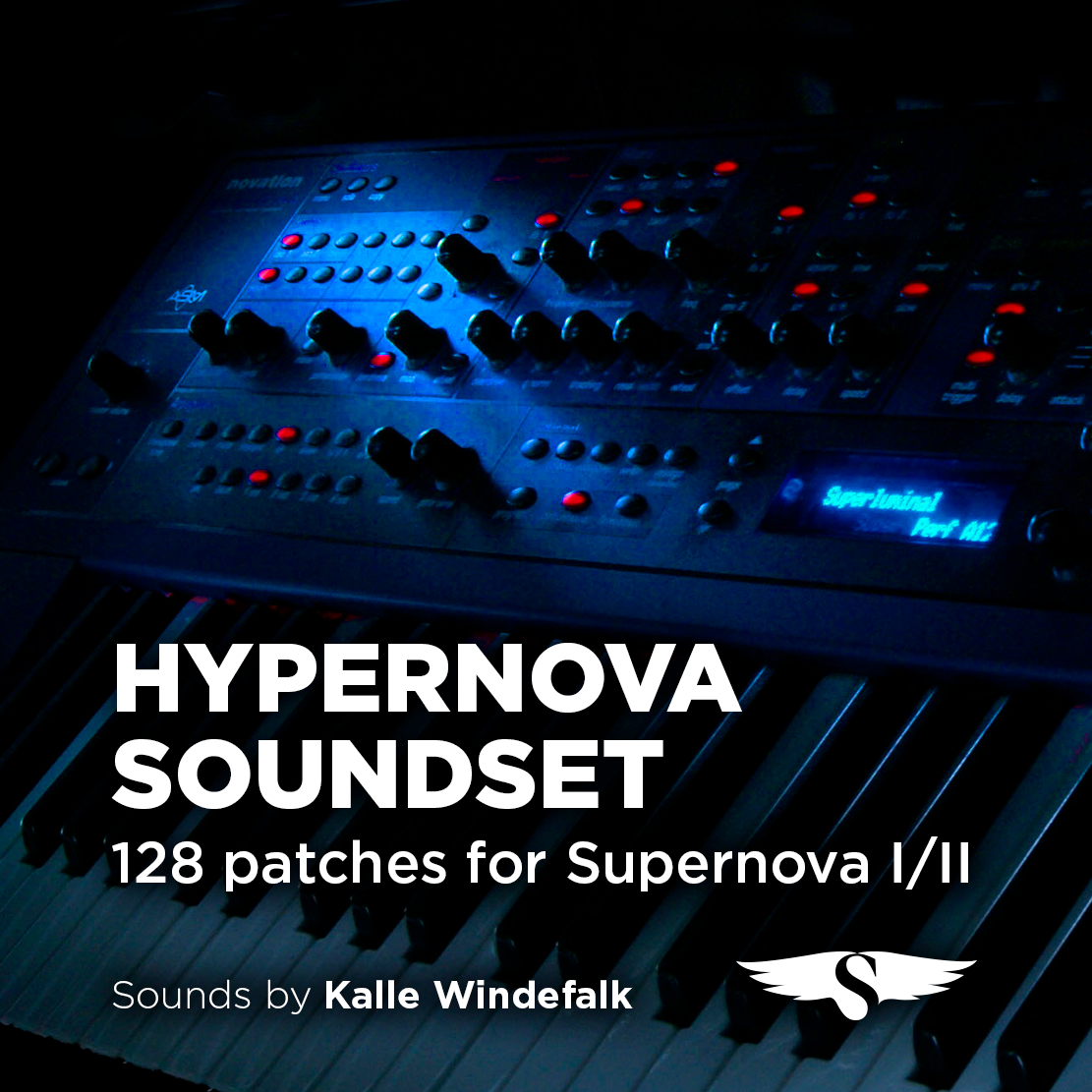 Novation Supernova II Soundset "Hypernova"
Novation Supernova II Soundset "Hypernova" is a bank of 128 patches for the legendary Novation Supernova / Supernova II / Nova / Nova II synthesizers by Seraphic Music
Novation Supernova II Soundset "Hypernova" is a set of 128 well crafted patches for your Novation Supernova / Supernova II / Nova / Nova II synthesizers.
The bank contains cool leads, beautiful keys, atmospheric pads and classic sounds. The sounds in the Hypernova soundset explores the complex envelope settings as well as the synthesizer's FX section. Many of the patches make use of the fx chain configuration to obtain beautiful atmospheric spaces. Also the comb filter is explored. Most unison patches doesn't use more than 2 voices so that everyone can experience the sounds with all Supernova versions (20-48 voices).
The sounds are not designed for any specific genre even though there are some classic Electronic Dance Music-style basses and trance leads.
All patches are designed for the Supernova II OS 2.0
What our Customers think
Let us know what you think...
Only logged in customers who have purchased this product may leave a review. Log in now
Hypernova Soundset Patchlist
Moving Coil KW
Beating Wing KW
But of cos KW
Acid KW
Moonscape KW
Solarwinds KW
TerraNova KW
Deep Space KW
Apocalypto KW
Probe KW
Solstice KW
Luminary KW
LO-FI String KW
Zenith KW
Portus KW
DeepThrout KW
Submasarine KW
Angles KW
Metallica KW
Agressive Saw KW
Cathedral KW
Helix KW
Aurora KW
Dark Matter KW
Wash KW
Helix Glide KW
Android KW
Rez Bass KW
Neptune KW
Berlin KW
Notre Dame KW
Europa KW
Deep Rising KW
PolarPad KW
Egnite KW
DragonBreath KW
Just a Bass KW
Orion KW
Mellowdian KW
Beauty KW
Spacious KW
Horizons KW
Stratasphere KW
BoulderDash KW
Parallax KW
Braveheart KW
NovaOrchestra KW
Pluto KW
Sputnik KW
Pulsar KW
Satellite KW
Nebula KW
Quasar KW
Flare KW
Mars KW
Red Dwarf KW
Helium KW
Realm KW
MeteorShower KW
Among Stars KW
Mercury KW
Venus KW
Lifeform KW
Exo Planets KW
SaturnReturn KW
StarBreeze KW
Jupiter KW
Jupiter UnisonKW
PianoString KW
Zodiac KW
Andromeda KW
Pegasus 51 KW
Fantasia KW
CheapOrgan KW
The Voice KW
Punsher KW
Dimension KW
Distortek KW
Beat It KW
Funky KW
North Star KW
Radiation KW
Atlantis KW
Pangea KW
Crimson Sun KW
MilkyWay KW
Are We Synced KW
Caves KW
PeterPan KW
Cassiopeia KW
Gibzon KW
Albedo KW
GammaRay KW
Equinox KW
Eclipse KW
Apogee KW
Emotional KW
FM-RM Bass KW
Talking KW
Can KW
BrokenPluck KW
RotaryPluck KW
RoundCube KW
Green Men KW
Ninja KW
Palestrina KW
Whitelined KW
Ghost KW
12 bit KW
SteamPunk KW
StellaNova KW
In a Dream KW
CombPluck KW
Lord 0 Ring KW
Noisy Spares KW
StraightFMBassKW
Mad Sience KW
Kepler KW
VoiceInMyHead KW
BlackHole KW
CrescentMoon KW
Transmissitor KW
Factor Y KW
New Age Lead KW
Han Solo Lead KW
Purple Sky KW
Tiamat KW
Warp Drive KW
Attention!
This soundset is compatible with Nova, Supernova and Nova II models when using with AURA Plugins Novation SN / SN II Editor & Librarians.
Novation SN Editors can control your Novation synth directly from your DAW.