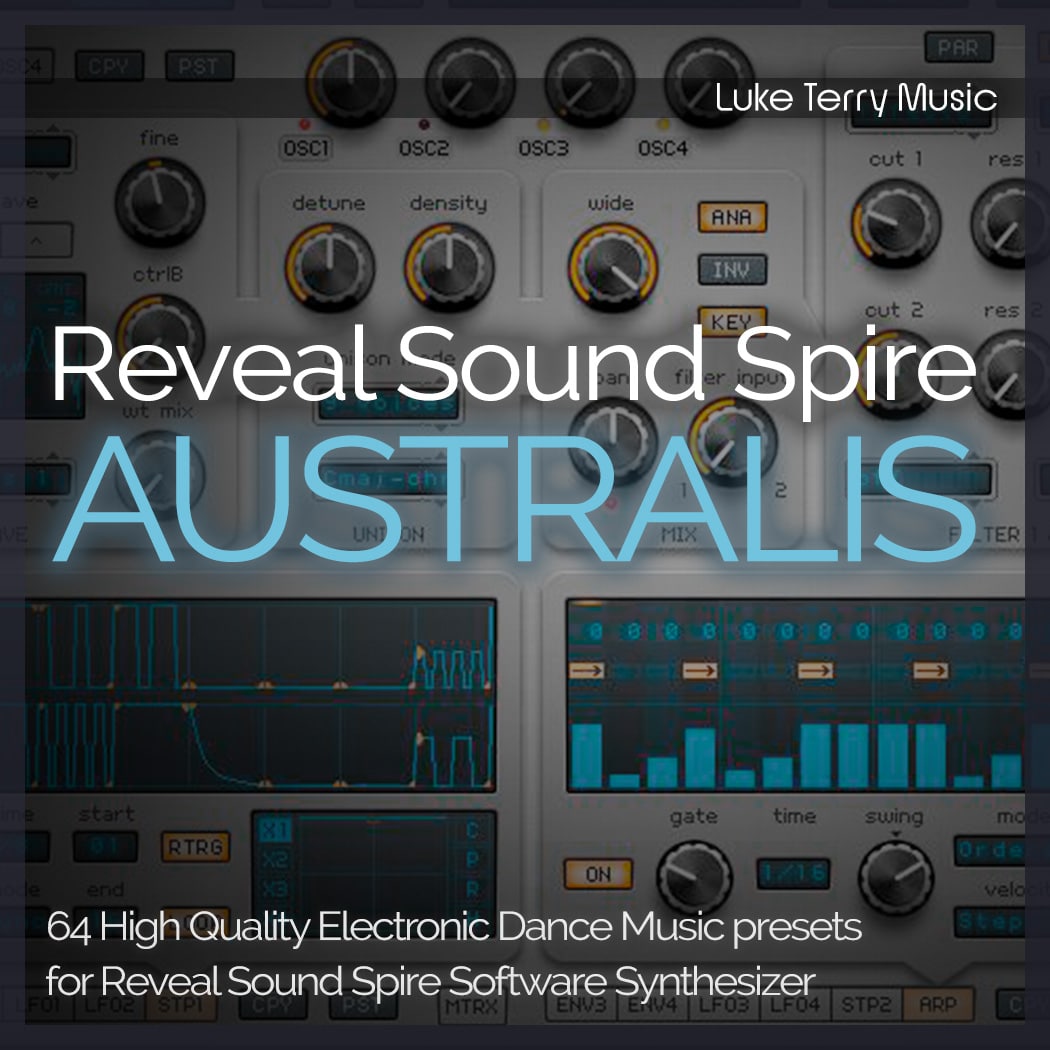 Reveal Sound Spire Soundset "Australis"
Luke Terry Reveal Sound Spire soundset Australis has landed. These unique, authentic and trancy patches will ignite your inspiration!
All prices exclude VAT/Tax. Global customers are exempt.
For EU customers, VAT will be added at checkout or enter a valid VAT number if you have one.
Australis Soundset for Reveal Sound Spire is a 64 breath taking, classic but yet new sounding presets for Reveal Sound Spire software synthesizer. Luke Terry came up with a excellent collection of igniting presets to use as they are or tweak them around to so they will fit into your tracks! This is: Luke Terry Australis for Spire! Hear the demo below, while you read what Luke says himself:
Thank you and congratulations on purchasing this soundset for Reveal Sound's Spire VST. The soundset is made up of 64 sounds all designed for plug and play use when making modern, fresh trance music with a hint of nostalgia built in.
In this soundset there are sounds which come from my own productions which have been adapted from other synths to sound as identical as possible. Alongside these are brand new sounds making full use of Spire's built in FX unit which is the best one I've used since the Novation Supernova!
All the sounds in the soundset are designed for trance music. There are a few cheeky arps/sequences to kick things off, Following these are a wide range of basses, from oldskool, to midrange powerhouses, subwoofer shaking low end sounds and back through to the ever popular psy driving basses. After these are the leads, from massive leads modelled on the Nord Lead 3 and JP8000 series through to twisting squares and overdriven new age monsters. Next up is a series of pads, from atmospheric mood setters through to powerful saws that could be used as a lead in their own right. Plucks are the next group of sounds, from guitars, to chirpy uplifting and gentle melodic sounds. And, at the very end are a small group of special sounds which can be used as an acid, a bass or a lead depending on how much you want to bring out the filter and distortion.
Purchase Reveal Sound Spire from their own website: http://www.reveal-sound.com !
What our Customers think
Let us know what you think...
Only logged in customers who have purchased this product may leave a review. Log in now
Reveal Sound Spire Soundset Australis Patchlist
303 Like PvD
Spherish
TB Fun
Captive Bassline
Dutch
A Little Phase
Blobs
Clean Roll
Clean Sub
Drive Roll
Inhale Sub
99 Topper
Goa or Psy?
Minerva
Saw Pinger
Square O Saurus Rex
Superdry
Plexo
648
Gosh Jabriel
NL3 Style
Tinker
Fistem S
Medusa
Australia
Moon Ice
SphereoSaw
Taste of Spring
More Vincent
Break It Down
In The Forest There's a Monster
More Questions
Do Der Stadt
Parky
Omensia
Xtravagant
Captured Sun
Fly Away
Trance Formation
Prosperity
Andromeda Saws
Embellish
Nirtous
Triangulation
Tension
Dimensional
On Air
Hammertime
Pull
8 Villages
Always Nord
Volcano
Dreamy
New Energy
Sea Alchemy
Hellsing
Bonn
Smash
Milky
Meerkat
Release
Angry Acid
FM Secrets
Dark FM