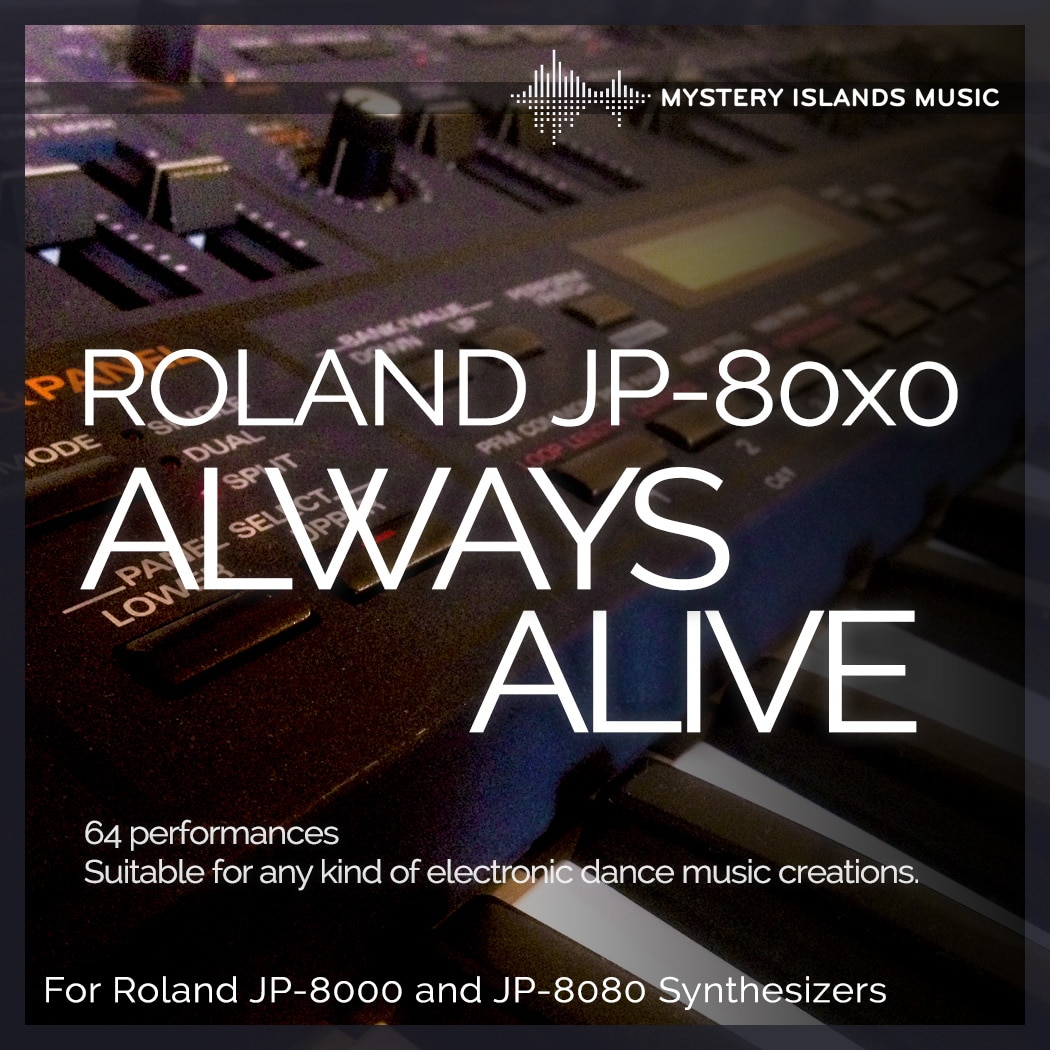 Roland JP-8000 Soundset "Always Alive"
This JP-8000 soundset is classic, fat as hell and it sure is the most used synthesizer in Trance-scene. Now it's your chance to get some really thick pads and massive leads for your JP and bring it back to life!
Compatible with Roland JP-8000 and Roland JP-8080. Download, unzip, send it to your JP and enjoy.
All prices exclude VAT/Tax. Global customers are exempt.
For EU customers, VAT will be added at checkout or enter a valid VAT number if you have one.
Roland JP-80x0 Always Alive Soundset, our very first Roland JP-8000 Soundset. This JP-8000 / JP-8080 soundset has been used by many producers out there.
64 Performances, mostly layered sounds, covering Leads, Pads, Plucks and Basses. This is the best chance to get that Ferry Corsten, Airwave, Rank 1, Armin Van Buuren, Above & Beyond type of sound we heard in early 2000.
Requirements:
Roland JP-8000 or Roland JP-8080
Some presets have additional Reverb and Delay from External Effect Units
https://soundcloud.com/mystery-islands/roland-jp-8000-jp-8080-soundset-demo
What our Customers think
Let us know what you think...
Only logged in customers who have purchased this product may leave a review. Log in now
Always Alive Soundset Patchlist
LD FerrySaw 1 JK
LD FerrySaw 2 JK
LD FerrySaw 3 JK
LD Doubler JK
LD Memento JK
LD Stabbed JK
LD LikeHvn JK
LD Darude JK
LD The Usual JK
LD AnlgHaven JK
LD Breakfast JK
LD Yahel JK
LD The Sun JK
LD Sleepy? JK
LD Sub?Lime JK
LD I Love U! JK
BA Gouryella JK
BA AnjunaSeq JK
BA ThickSaw JK
BA AriaSmth JK
BA BeyondIT JK
BA Chained JK
BA 2K EuroBS JK
BA FBbass JK
BA United4U JK
BA Fatso JK
BA DeepNoize JK
BA AboveAll JK
BA SawItDown JK
BA Mystery JK
BA 303-Style JK
BA 303-Style2 JK
PLK Chicane JK
PLK Snappy JK
PLK Sonar JK
PLK SuperPLK JK
PLK Jupiter JK
PLK Pearls JK
PLK Nu-NRG JK
PLK No Faith JK
ARP Live JK
ARP Electro JK
ARP Bassline JK
ARP A2 RPS JK
ARP Moore JK
ARP 303 Today JK
ARP 1 To Use JK
FX In LFO JK
PAD Airwaves JK
PAD Stargate JK
PAD Stargate2 JK
PAD Choirish JK
PAD YetAnthr JK
PAD Five JK
PAD Rk1Strng JK
PAD AddDistr JK
PAD PWMString JK
PAD N20 JK
PAD 80x0Saws JK
PAD NiceSweep JK
PAD TakeDaLD JK
PAD VibraTone JK
PAD LastLook JK
PAD Silence JK
Note!
Take the hassle out of your hardware memory management with AURA Plugins Roland JP-80×0 Editor & Librarian.
Roland JP-80×0 Editor can control your JP-8000 / JP-8080 directly from your DAW.