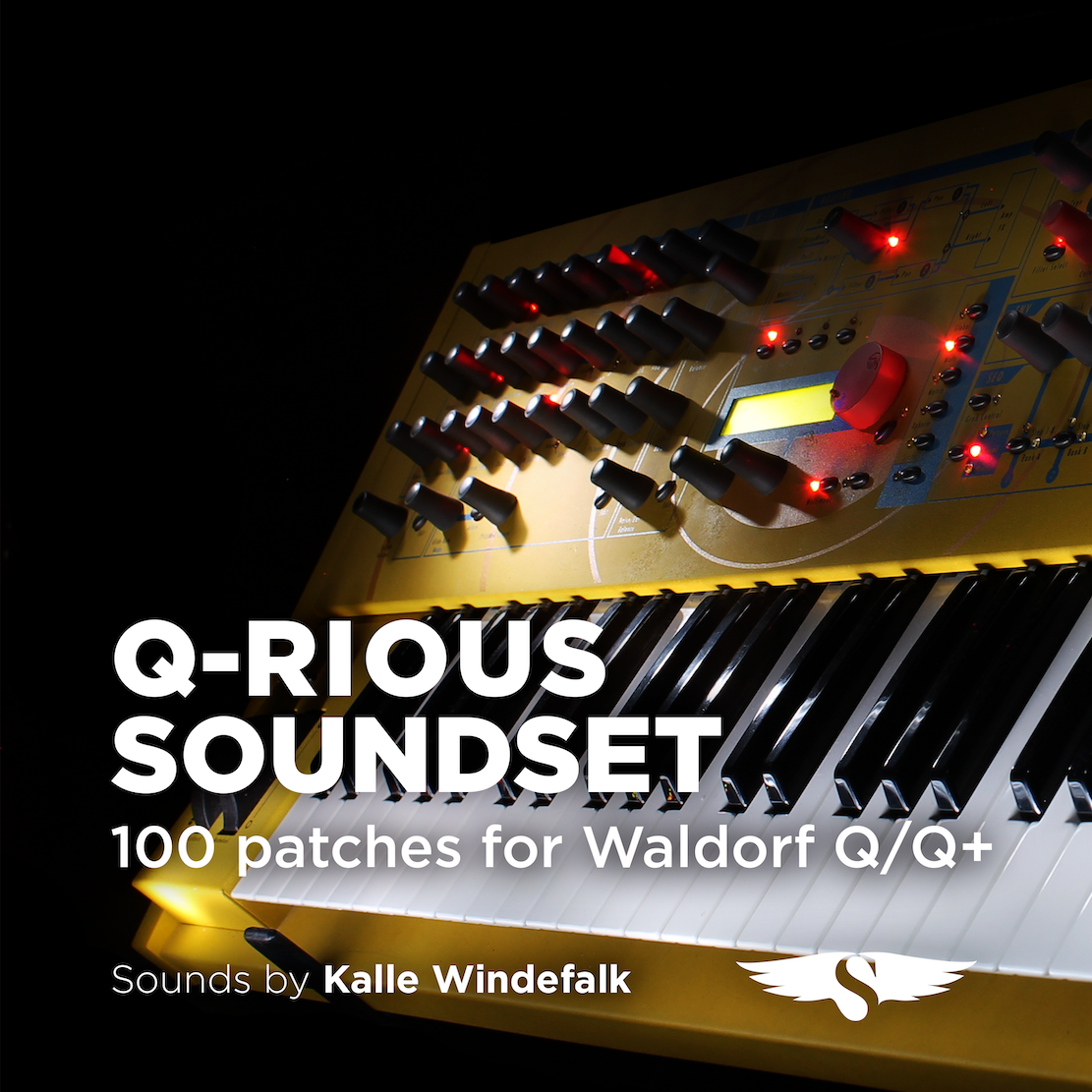 Waldorf Q Soundset "Q-Rious"
Waldorf Q Soundest "Q-Rious" is a bank of 100 patches for the legendary Waldorf Q-series synthesizers by Seraphic Music.
Converted banks included for microQ and Blofeld synthesizers as well!
Waldorf Q Soundset "Q-Rious" is a set of 100 well crafted patches for your Waldorf Q / Q+ containing piercing leads, beautiful keys, atmospheric sounds, big, wide pads, gritty basses, arpeggios, pluck sounds and some classic trancy stuff.
The soundset fit most electronic genre from ambience to death electro. Many of the patches make use of the extensive modulation matrix.
If you want something else than comb filtered audio landscapes then this is the set for you.
The bank contains
10 Arpeggios
7 Atmospheric sounds
23 Basses
11 Keyboard sounds
16 Leads
21 Pads
13 Poly sounds
What our Customers think
Let us know what you think...
Only logged in customers who have purchased this product may leave a review. Log in now
Q-Rious Soundset Patchlist
Solarwaves
InDaFace
WeepingLead
PluckLead
MOS Lead
Leadbaneze
NeoWave
PeterPanFlute
Phase It
Surgical Lead
Man Machine
BitNova Lead
Syncosaurus
Piercer Lead
WaveTabler
Signals
UltraVox
Explorer
Pegasus
Polymorph
Anthemic
Funky Bass
LoBit Bass
Papercut Bass
LordOfTheRing
RingModler
…not lately
SubConsious
RAW
Meatballs
AmpModBass
TopGlider
Juicy Bass
Ducktales
Octavia
MovingCoil
Gruff
Hollow
PillowBass
PhaseFM
Funked Up
Gansgta' Bass
Anna
Generation X
Galactical
Tremulous
Crimson Sun
Oceanic
Yonder
Purple Skies
Pads'R'Us
Reezo Drop
Half FM
Promethius
PowerPulse
Antarctica
Complextro
Organa
Oblivion
SelfieOSC
River Kwai
Setting Sun
Wet'n'Wild
5th Dimension
TipTop
Mystified
Cyberdyne
RippedApart
ChaseInSpace
Quasi-Science
RainDrops
Plucko
Rubberband
Sweep Tight
Neon Lights
Floating
Std TranceArp
Nintendorf
Saturnus
Interstellar
Waldorf Keys
I'veGotPulse
Binary
Stalactite
Angles Cry
Atlantis
Diamond
SuperPulsar
InFlanges
Unnova
DustStorm
PowerSaw
Sprites
Sprinkles
Giants
Gaia
Hydra
PopChord
DirtySaw
Anger
Starsky
Attention!
This soundset is compatible with AURA Plugins Waldorf Blofeld, Waldorf microQ and Waldorf Q Editor & Librarians.
You can load this soundset to your microQ or Blofeld with AURA Plugins Editors.