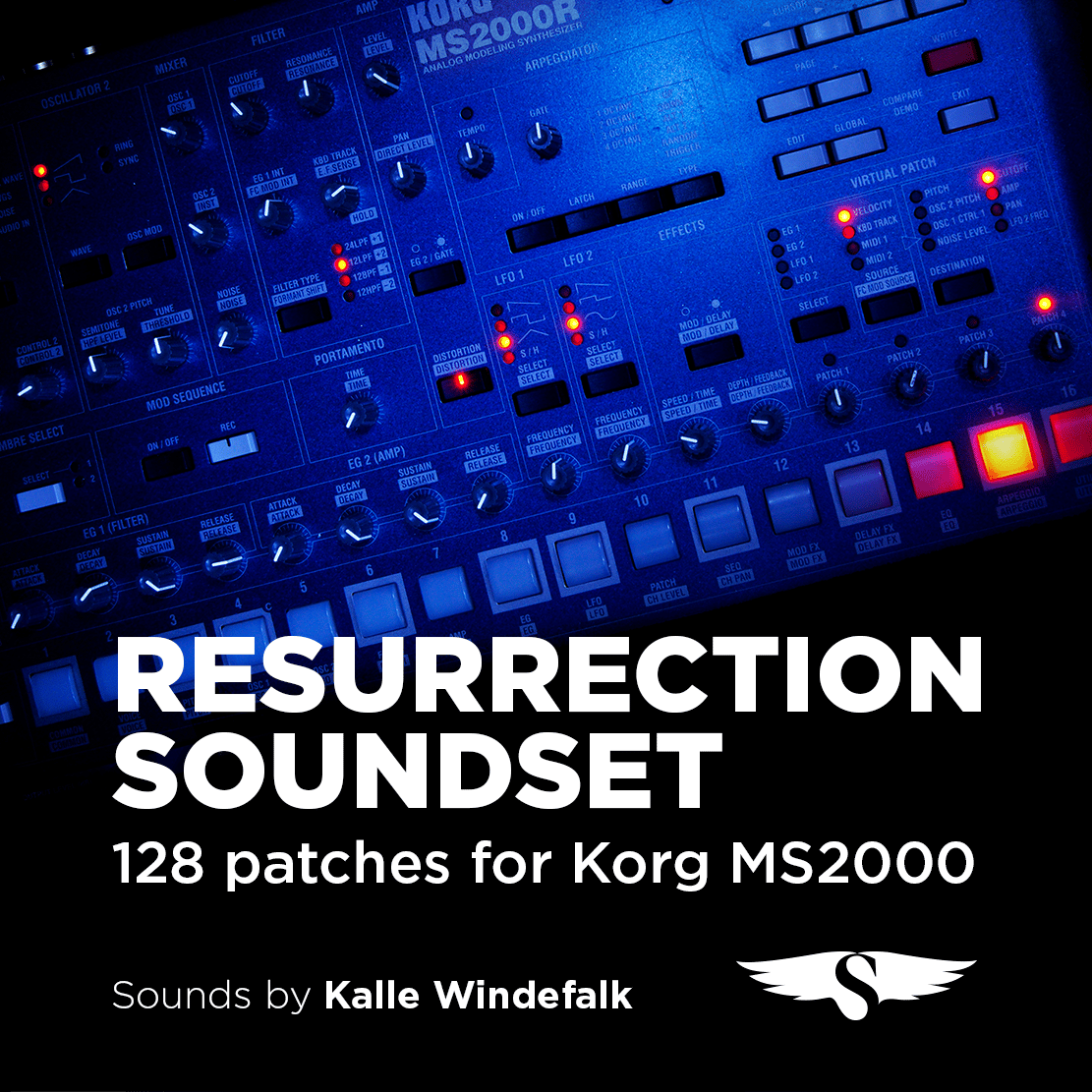 Korg MS2000 Soundset "Resurrection"
Korg MS2000 Soundset "Resurrection" is a modern classic for Korg MS2000 & microKorg users! This soundset by Seraphic Music is pure gold. Hear it yourself!
All prices exclude VAT/Tax. Global customers are exempt.
For EU customers, VAT will be added at checkout or enter a valid VAT number if you have one.
Korg MS2000 Soundset "Resurrection" is here and it contains 128 hand crafted(!) patches for your Korg MS2000 / Microkorg synthesizer.
It's loaded with beautiful arpeggios, classic dance leads, pads and basses. Everything that the
modern EDM producer need. So get yourself this soundest and wake up the dormant best.
All patches are made with AURA Plugins Korg MS2000 Editor & Librarian software.
Only reverb are added to the instruments for the demo.
What our Customers think
Let us know what you think...
Only logged in customers who have purchased this product may leave a review. Log in now
Resurrection Soundset Patchlist
Pluckperfect
MIDI Gtr
Anno 00
Foggy
Sunset
Clubsoda
Surfer
Pike Lee
Fifth Dmsin
Dreamer
Pizzicato
Push
Dimension
Unicoin
Pluckosauros
Pixies
80s FM
AngleCry
Snowflakes
Bright
Milkyway
Atlantis
Ordinary Key
Pad in m3
Grodan
Arctique
Amipop
Painfluite
Castles
Spectrapdoor
Orion
Mescalina
ChainSaw
Puncher
Smuck
Bounce
Paperjam
TheSupporter
SlapBejs
PowerBass
Golphino
SomeTing
Bassroller
SuckerPunch
Sticky Bass
Psy bass
RubberDuck
Effem Bass
NorseArp
Moistur
Orbiter
Lo-Fi Sticks
DiscoPicks
Funky
Tiny arp
Squaaary!
Ripper
Glossy
Nasal
Vagabond
Loading…
Heroes
DirtySquare
Starfall
SadLead
Distorbed
Doubbler
K64
Spectrovolt
Laserdome
Lonewolf
TurboLead
-10 Rejv
Strained
Radix
Tromphat
SETI
U.K.H.C.
Universa
Fluite
Filtropus
Drones
ResoKeys
Anna
SawPad
Galactic X
Interswellar
Morphosa
Carpet
Ransard
Lost
Desolate
Softstring
Swello!
Rusty
Pan-dora
Hydrafluit
Gog
Radioactive
Swampthing
seq
Unstable
Lazergun
Razor
Lead me!
Distbass
BookaShade
Round bass
Tri-Tonus
Mutant
whiplash
Growler
Stories
Agressor
Hollow
TriSquare
Chordasian
CrispySaws
Bubblegum
MeatLoaf
Cars
Steelboard
Organdonator
waves
Misty
BinaryDew
Con-Chord
Rehersal
Attention!
This soundset is created with AURA Plugins Korg MS2000 Editor & Librarian.
Korg MS2000 Editor can control your MS2000(R) directly from your DAW.